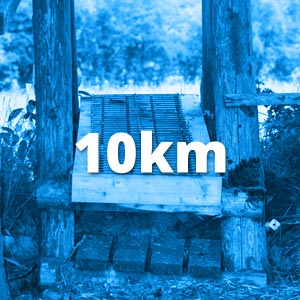 This trail starts at the arboretum in the village of Broadford. If you have time, visit the arboretum which was formally a limestone quarry now planted with native Irish trees and shrubs.
Follow the blue arrows through the village turning left at the Old Forge Inn. As you leave the village you will notice a lovely display celebrating the skills of the blacksmith in times past. In this walk you will be crossing the county border into Co. Cork and as you climb, you will pass farmland on both sides with some lovely views. Remember that these are minor roads so there will be some traffic.
Later on in the walk you will be looking down onto Gleann na gCapall. You can read about how the glen was so named at the story board later on in the walk. The stream that passes through the village of Broadford has its source close to this spot.
There are some stunning views on your descent down through a farm crossing through fields and wooded areas. This is a working farm so please ensure gates are kept closed. This pleasant farm walk will eventually bring you to the historical site of Killagholehane church where there is a story board detailing the history and unique folklore of the area.
The walk ends back in the car park in the village of Broadford.
Difficulty – Moderate.
This trail has some climbs and in places an uneven surface where the going is rough underfoot with some obstacles such as protruding roots, rocks etc. The route is appropriate for people with a moderate level of fitness and some walking experience. Specific outdoor walking footwear and clothing is recommended.