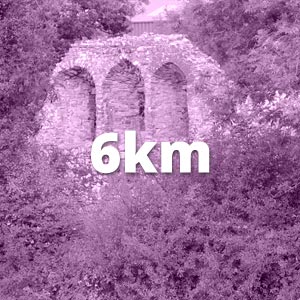 This moderate walk takes you through the picturesque village of Broadford, along a peaceful country lane to the ruins of a 15th century church. It is an ideal family walk and is very popular with the locals residents.
The walk begins in the Arboretum beside the Trailhead where 26 native trees and shrubs were planted 15 years ago. The children of the locality are the beneficial owners of the Arboretum which is managed by Broadford Development Association.
After a short walk through the village you ramble along a quiet country lane which will bring you to a pleasant avenue lined with ash, sycamore, beech and lime trees. This leads you to Killagholehane Church ruins and burial grounds. Take time out to read the storyboard beside the Church ruins. Enjoy a walk within the Church ruins which are maintained by the Office of Public Works and appreciate the skill of the craftsmen of a bygone age.
Return by the same route to the Trailhead in the village.
Difficulty – Moderate
This trail, although relatively flat, in places has an uneven surface where the going is somewhat rough underfoot. The route is appropriate for people with a moderate level of fitness and some walking experience. Specific outdoor walking footwear and clothing is recommended.