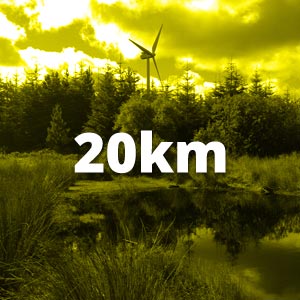 This walk links the villages of Ashford and Broadford and provides you with a wide variety of terrain and magnificent views .
Leaving the trailhead in Ashford where you can read the history of this historic village on the storyboard you climb steeply up the Cobs Road. Enjoy the breathtaking views before entering a farm laneway, which leads into a Coillte forest.
On exiting onto the roadway walk a short distance and enter a second section of sitka spruce forest. Enjoy the calm of this walk listening for the song of the cuckoo in summertime, a glimpse of a hen harrier or if you are lucky a sika deer may cross the pathway in front of you.
Exit onto a quiet country road. Admire the views which stretch as far as the Shannon Estuary as you walk downhill before entering a working farm where cattle graze peacefully. Tread quietly as you pass the Fairy Village. Visit the ruins of Killagholehane Church before you enter a treelined avenue which leads you into the village of Broadford.
Difficulty – Strenuous
This is a physically demanding trail which has some sections with steep climbs and the going underfoot can be extremely rough. Suitable for users accustomed to walking on rough ground and with a high level of fitness. Specific outdoor walking footwear and clothing required.