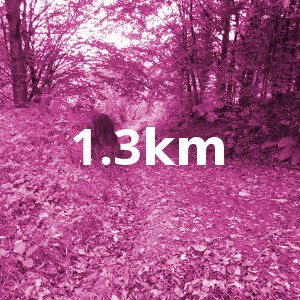 This newly developed 1.3km woodland loop is a wonderful addition to the Trails.  As well as providing a delightful walk in its own right it offers a pleasant alternative to the steeper Cobs road route and links seamlessly onto the other walking trails of the Gortnaclohy Loop, the Lough Ghé Way and the Ashford to Broadford Way.
Leave the Trailhead in Ashford and following the pink arrows walk the 300m along the laneway to the entrance to the Cobs Road. Here you veer right and enter a lush woodland where each of the four seasons will bring their own features.  From mature deciduous trees to a wonderland of native plants, from birdsong to animal sounds and sights, this short walk is ideal for those who have just a short period of time to experience the outdoors.
It follows an old boreen that linked the top of the Cobs road with the village of Ashford in times past. This woodland loop will bring you back to the laneway that leads you back to the Trailhead in Ashford having given you a taste of what the other trails have to offer.