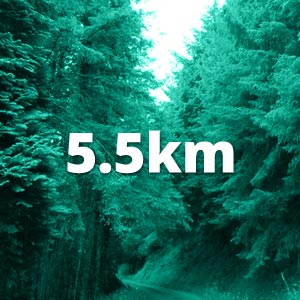 Gortnaclohy Loop has temporarily become Gortnaclohy Return due to ongoing works.
This walk above the village of Ashford gives some fabulous views extending over Co. Limerick and into counties Clare and Tipperary. It is almost completely off road.
The first section leads you into the historic Cobs road (steep) which in the past was a Mass path leading people to their Church ceremony and children to school. After this relatively short climb you reach the main road.
As you walk downhill from here admire the spectacular views laid out before you. The winding road leads you to the Mass Rock where people gathered in secret to attend Mass in the 17th and 18th centuries.
Continuing downhill watch for the entrance on the left which will lead you into a forestry track. This track leads you on an uphill climb between the trees until you reach a point where the pathway veers to the right. You must now return on the route that you came.
Return to the trailhead in Ashford walking downhill via the Cobs road.
Difficulty – Strenuous.
This is a physically demanding trail which has some sections with steep climbs and the going underfoot can be extremely rough. Suitable for users accustomed to walking on rough ground and with a high level of fitness. Specific outdoor walking footwear and clothing required.