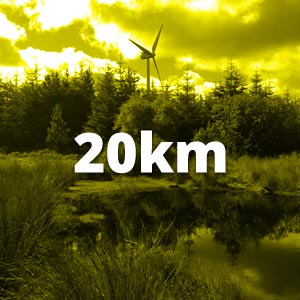 This route is temporarily closed due to ongoing works.
This walk links the villages of Ashford and Broadford and provides you with a wide variety of terrain and magnificent views .
Leaving the trailhead in Ashford where you can read the history of this historic village on the storyboard you climb steeply up the Cobs Road. Enjoy the breathtaking views before entering a farm laneway, which leads into a Coillte forest.
On exiting onto the roadway walk a short distance to Lough Ghé, a deep oligotrophic lake which is fringed with bottle sedge and bilberry. Lough Ghé is situated in a National Heritage Area containing upland blanket bog which is a globally scarce resource. The lake has been designated a Wildfowl Sanctuary.
The walk now takes you along an upland road which in Summertime is busy with the turfcutters bringing home the Winter fuel. Having exited a second section of sitka spruce forestry you enter the second part of your journey.
Admire the views as you walk downhill before entering a working farm (fenced) where cattle graze peacefully. This section of the walk overlooks an old glen where oak, ash and hazel display magnificent colours in Autumn and bluebells thrive in Springtime. It leads you onto a treelined avenue before leading you into the village of Broadford.
Difficulty – Strenuous
This is a physically demanding trail which has some sections with steep climbs and the going underfoot can be extremely rough. Suitable for users accustomed to walking on rough ground and with a high level of fitness. Specific outdoor walking footwear and clothing required.