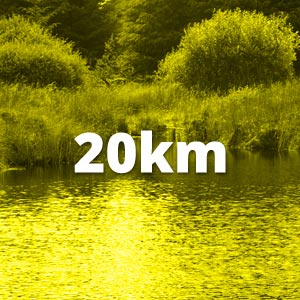 This route is temporarily closed due to ongoing works.
This walk linking the 2 villages of Broadford and Ashford provides a variety of terrain, views and ambience.
Leaving the picturesque village of Broadford you enter a pleasant tree lined avenue which will lead you onto a dairy farm (fenced). The adjoining glen has oak, ash, hazel and other native Irish trees growing naturally. The landscape which leads to the Shannon Estuary is spectacular.
On exiting the farm path you walk a quiet country road which leads you to a Coillte forest. Passing over quiet streams and listening for the call of the cuckoo in Summer or a glimpse of the hen harrier you reach a roadway which will bring you to Lough Ghé, a deep oligotrophic lake which is fringed with bottle sedge and bilberry. Lough Ghé is situated in a National Heritage Area containing upland blanket bog which is a globally scarce resource. The lake has been designated a Wildfowl Sanctuary.
On exiting the lake continue until you reach the second section of Coillte forestry which will lead you down a country lane until you exit to overlook stunning views of Limerick as far as Knockfierna, the Ballyhouras and beyond.
The final section of the walk leads you down the Cobs Road to the village of Ashford, part of the parish of Killeedy where St. Ita founded a monastery in the 6th century. Enjoy your walk.
Difficulty – Strenuous
This is a physically demanding trail which has some sections with steep climbs and the going underfoot can be extremely rough. Suitable for users accustomed to walking on rough ground and with a high level of fitness. Specific outdoor walking footwear and clothing required.